Martial Arts Student Insurance,
Licensing & Membership
Combined into a single, affordable annual fee from a multi-award winning governing body.
We're proud to offer affordable, reliable and comprehensive martial arts student insurance & membership for a low annual price, starting at just £4.20 per student on a pay as you go basis dropping through to £2.00 per student, per year for bulk registrations. Substantial discounts are always available for bulk registrations.
You can protect your students with £1,000,000, £2,000,000 or £5,000,000 student public liability insurance (also known as member to member) covering more than 200 different styles. Cover also includes a range of different types of weapons and our inclusive licensing means their grades and awards are recognised by a leading Association. On top of all this, you can hand them over beautiful PDF or printed certification, professional license books & inner-slips and access to premium websites, services & businesses at no extra cost to you or your student. This is in addition to live-time student records, instant access to cover and documentation, custom license slips and so much more.
We're proud to offer comprehensive martial arts student insurance and martial arts student membership for all of our members. There's no minimum student amount either.
As one of the UK's leading martial arts student insurance providers, you be assured that;
Big Or Small, We Can Help

For smaller clubs you can benefit from our instant-registration via the online and app based My.BMABA systems. Everything is online and it's safe and secure. You'll have full access to the analytics data you need and there's a tonne of extras thrown in to help you add value.

For larger clubs you can access amazing volume discounts, white-label arrangements and a dedicated 'one-to-one' point of contact with optional excel-based student handovers to help you register and renew your larger student base easily, with us taking care of the admin for you.
Just A Few Key BMABA Student Insurance Features;
Inclusive Of Insurance, Licensing & Membership

All of our 'student registrations' are fully inclusive on insurance, licensing and membership. This means everything you need – from public liability or personal accident through to association membership, participation licenses or other association benefits – it's all bundled into one price and one record.

Flexible Public Liability

It's your club and your students, so you're free to select either One, Two or Five Million Public Liability (member to member) insurance as you require.

Optional Personal Accident (PA)

We're able to offer very affordable student personal accident (PA) to offer you and your students additional protection in the event of a 'no-fault' incident. This can include benefit amounts for treatment like physiotherapy and dental expenses, as well as loss of income and benefits for broken bones etc. See the 'FAQs' to see the full inclusions and cover.

Grade Recognition & Award Recognition

From the issuance of grades (be it Kyu, Dan, Sash or Levels) to in-club tournaments and awards, student licensing ensures the documentation you issue in-house is recognised throughout the United Kingdom. Add credibility and value to your martial arts school's operation.

Instant Cover & In-Depth Records

We're a professional, multi-award winning governing body and as such we offer you a number of key, distinctive benefits. You can activate cover instantly using our bespoke online website and app. What's more, you'll also have full access to comprehensive student records in real-time via our bespoke CRM.

Free Student Liaison & Engagement Services

We know student retention isn't the easiest task in the world. That's why we provide free student engagement and retention services, as well as a dedicated student liaison officer, at no extra charge. This is served via our purpose built online student portal, to help you add credibility and value to your student registrations.
What Is Student Insurance?
Student insurance (often referred to as 'member to member', 'student indemnity', 'student licenses' or other variations thereof) is a type of cover designed to afford protection to students in the event of an incident or injury within your club.
BMABA Student insurance goes beyond just insurance. When we refer to student insurance, we're referring to a combined student insurance, licensing and membership package which brings together all aspects of student management into a single registration. We do this to ensure there's nothing left off. Alot of other associations might not do this, so bear this in mind!
BMABA Martial Arts Student insurance is designed to provide you with a range of insurances to protect you and your students in the dojo. It also includes BMABA student membership with the association, to help us offer additional features like international grade recognition and more. Student Licensing is bundled in too, which means student licenses are included.
There are effectively two main types of cover for students; Public Liability and Personal Accident. Most of the time when you hear the generic (and slightly incorrect term) 'Member to Member' this refers to Public Liability (PL) which is designed to cover for injury to other participants or damage to property.
Personal Accident (PA) provides additional benefits – such as physiotherapy expenses, dental costs or loss of income payments if a student is injured during your class. Student Insurances can be a huge source of income for your club and, more importantly, it can provide essential protection to your members in the event of injury.
Find out more about BMABA student insurance, membership and licensing. See what's included, how it works and how it can help your club.
Why BMABA Student Insurance?
As a multi-award winning martial arts governing body, we're big on promoting best practice and giving our clubs the tools needed to grow safely. A huge part of this and one of the biggest requirements from our industry is student insurance.
For this reason, we offer the following as standard for all students registered with us;
Student Insurance (Public Liability - PL)
By default all of our student memberships are inclusive of £1,000,000 Student Public Liability insurance designed to provide protection in the event of a student injuring another participant or causing damage to your venue. Cover is also available in £2,000,000 and £5,000,000 increments as required.
Student Association Membership
Also included is BMABA Student Membership. This provides students with tools and services designed to help them stay at your club. This includes student engagement and retention services, as well as a dedicated student liaison officer, at no extra charge. Students can also access a purpose built online student portal, forums, communities, vlogs, podcasts and blogs to help you add credibility and value.
Student Licensing
From the issuance of grades (be it Kyu, Dan, Sash or Levels) to in-club tournaments and awards, student licensing ensures the documentation you issue in-house is recognised throughout the United Kingdom. Student licensing also provides the participant with a governing-body mandate to participate within martial arts at your club.
Optionally, we can also include;
Personal Accident Insurance (PA)
In addition to their core protection from damages when pursued by another student or venue, we can also provide your students with Personal Accident (PA) cover. This provides assistance when a student is injured, without the need to pursue a claim against somebody else. PA can include cover for things like dental expenses, broken bones, loss of income, physiotherapy and more. Please check the benefit amounts from the FAQs section to learn more.
All BMABA Student Registrations Enjoy;
Register Students From Any Device, 24/7, With Instant Insurance Confirmation
Our industry-disrupting software allows you to register your students with you anywhere, anytime and on any device. You'll receive instant confirmation of insurance and licensing status, so you can rest assured they're 'on our books' and properly licensed before they step onto the mats.
Secure Access To Your Students 24/7
They're your students, so being able to access their records 24/7 is essential. We've invested vast sums of money into ensuring our clubs and instructors benefit from the best possible technology. This includes an instructor's portal containing dozens of sections – such as students, insurances, licensing and more.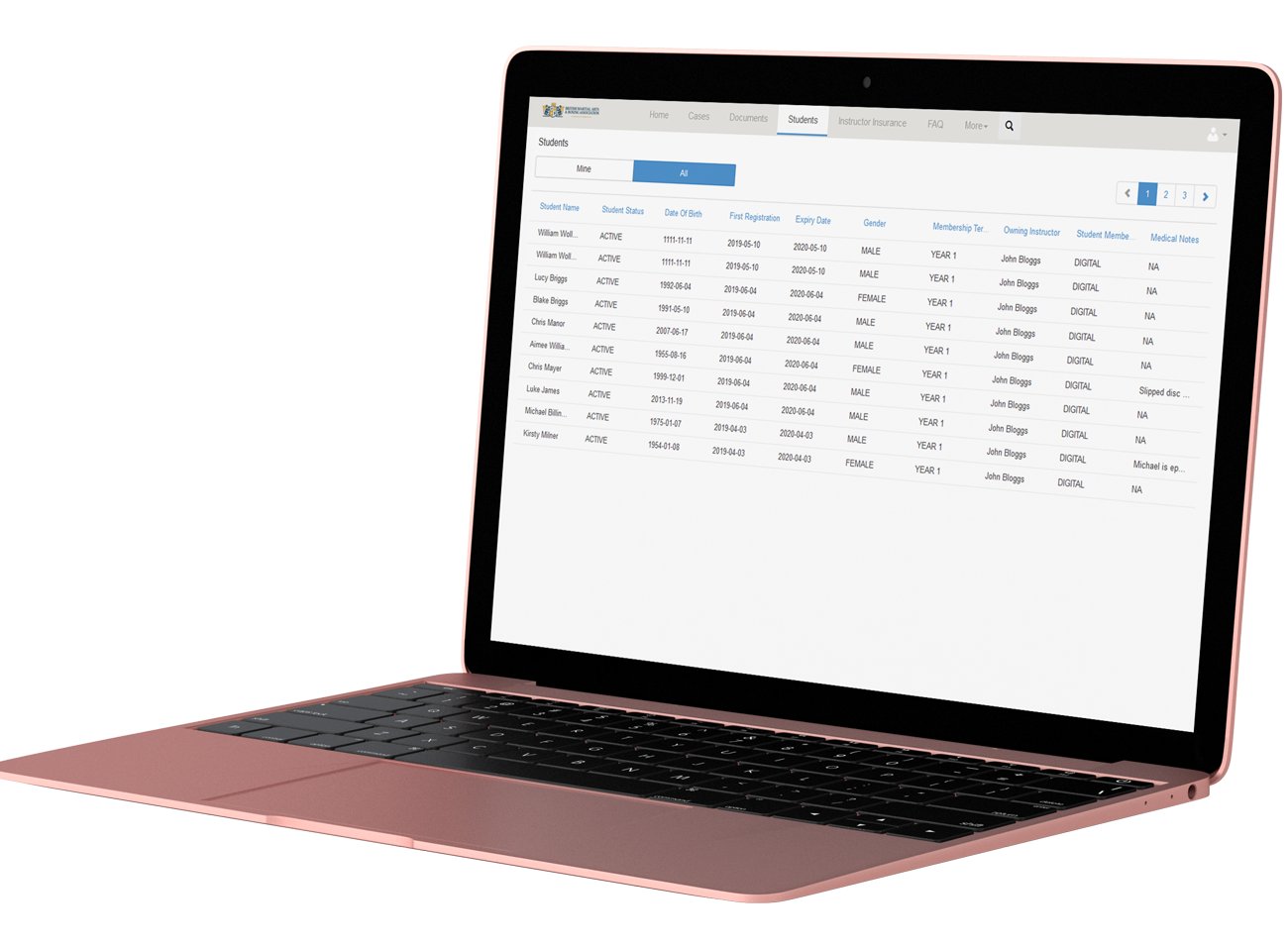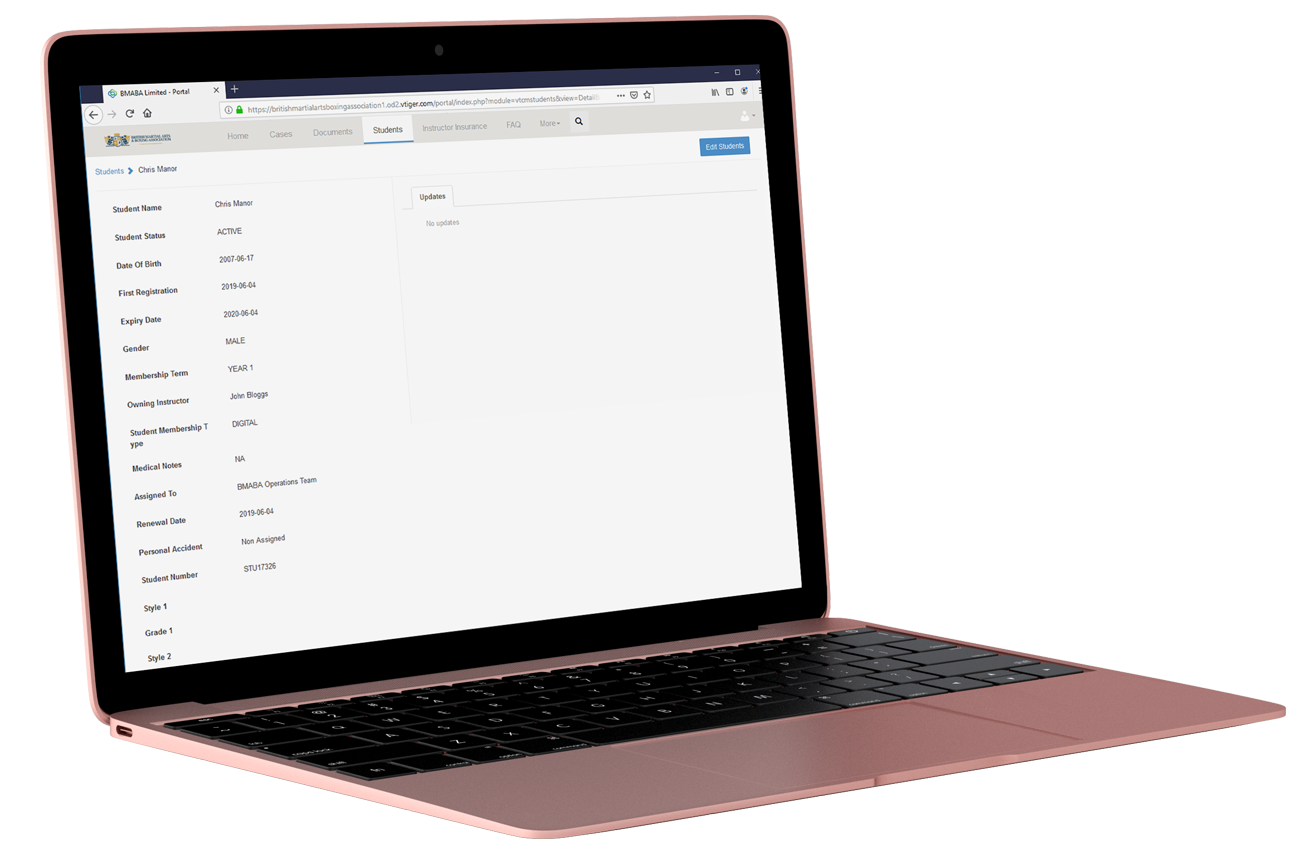 Detailed, Auditable, Professional Records For Your Members
Our specialist and bespoke instructor portal creates an individual record for each student of yours. Securely see and track everything from grade through to medical conditions- registrations dates to membership term. This is in addition to the sortable, dynamic list of all registered students which you can use to 'at a glance' find soon to renew students, or everyone of a set grade etc.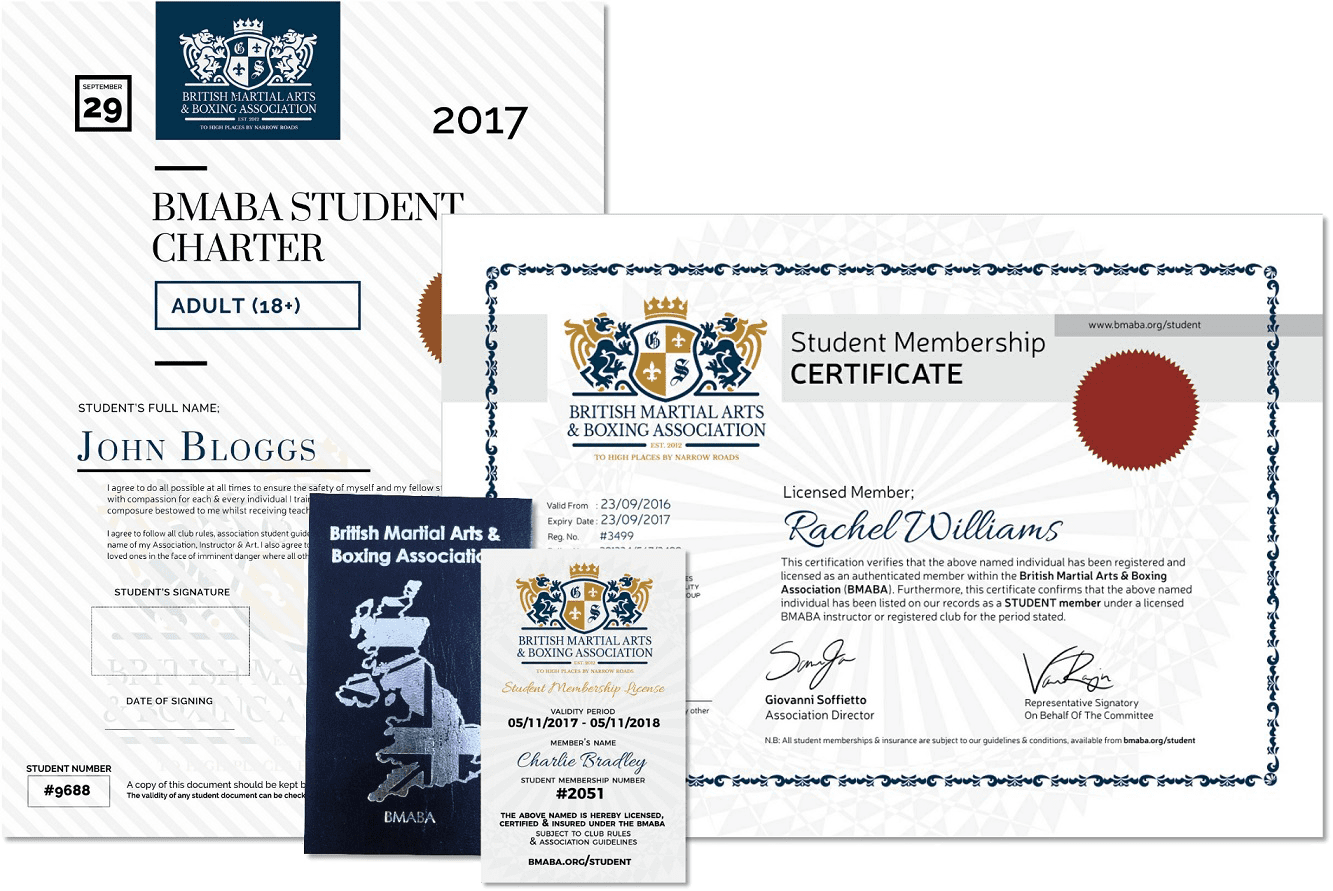 Beautiful Certification To Help You Stand Out And Add Value
We don't just provide access to the arbitrary 'typewriter' written license slip. BMABA Student licensing features our stunning, industry renowned membership certificates, charters and license slips to help you add value to club registrations and renewals.

By default, we always offer digital (PDF) certification so you can access, share and print documents yourself, 24/7.

We also offer printed documents, club ID cards, license books and more to help you deliver more for your club fees.
Grow Your Club
With BMABA Student Insurance.
BMABA Student insurance, which is a combination of insurance, membership and licensing can help you add value and grow your membership base.
By showing you're engaged with a governing body – and by extension your students are too – you'll be adding credibility and recognition to grades, training and awards issued by you and your club.
Not only does the student insurance package provide the essential insurances and memberships your students can really benefit from, but it's also an excellent annual opportunity for your club to boost it's revenue.
Take a look at our 3 Ways You Can Introduce Student Cover And Boost Your Club's Income to find out more about how our student package can help you grow your club.
WE KNOW THAT RESPECT IS EARNED, NOT GIVEN.
WE'RE MULTI-AWARD WINNING FOR A REASON
We've featured in newspapers and radio, have won various external accolades and continue to work with a number of high-profile charities and organisations.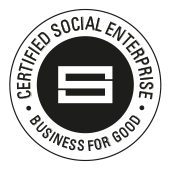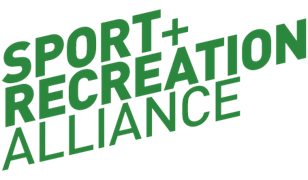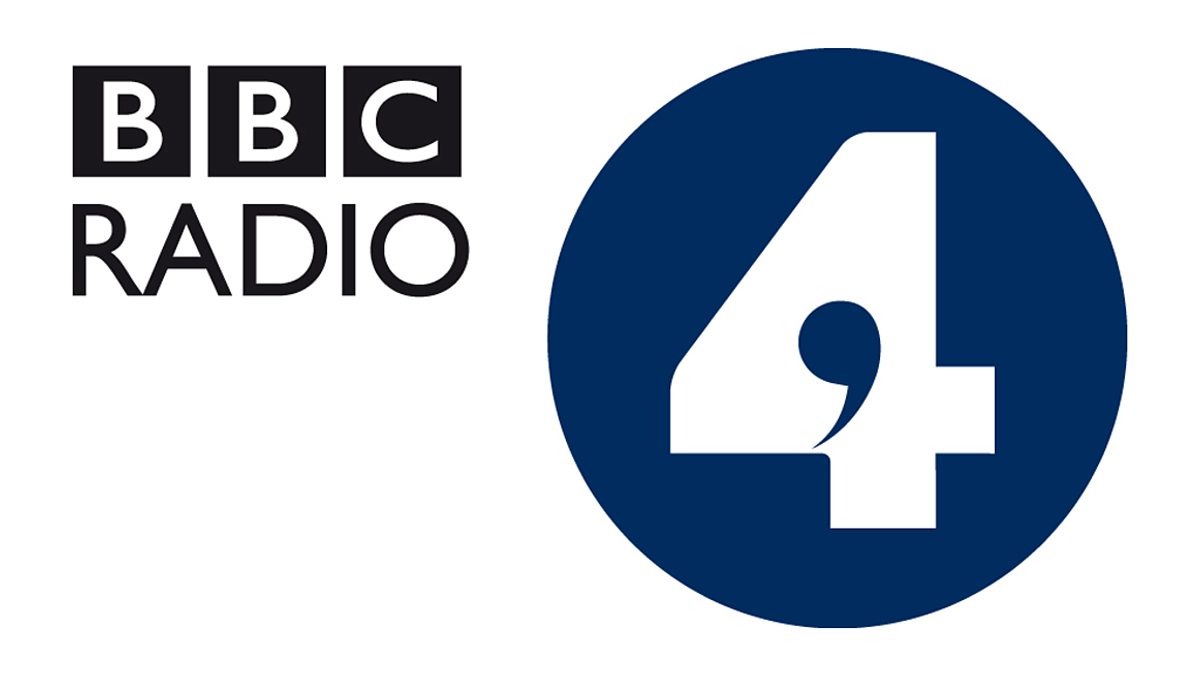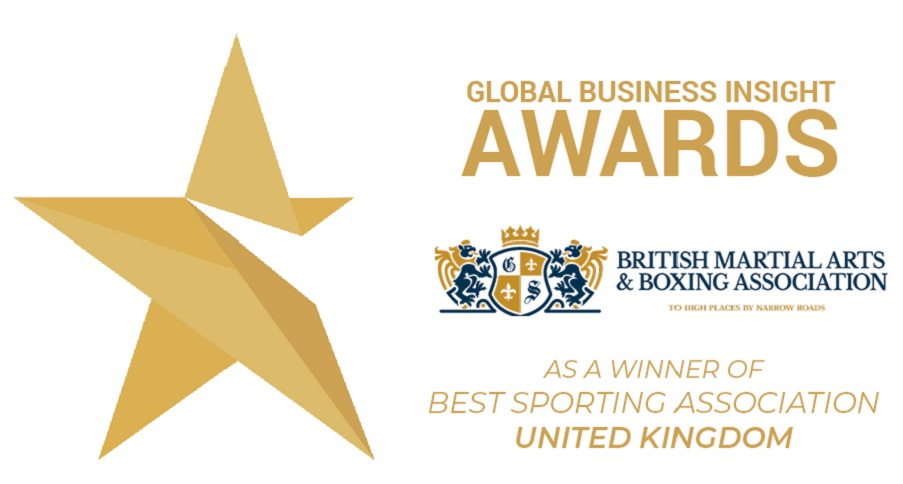 What Are The Costs?
Our costing is designed to be transparent, easy to follow and even more importantly – safe to build your club around. All of our cost in priced on the basis of per student, per year.
Every student insurance & membership purchase includes;
£1, £2 or £5 Million Student Public Liability Insurance

Full Student Licensing

BMABA Student Membership

Grade & Award Recognition

Access To Grading Support

Student Analytics Reporting

Student Database Admin

Student Liaison & Support Officers

Online Instant Student Registrations

Access To Student Resources

Help Gaining & Registering Students

Access To Our Student Community

Optional Personal Accident Insurance

Plus More
Our price plans exist to offer clubs of different sizes the opportunity to decide on the additional added extras they feel help them achieve their goals.
Which one you choose (if any at all) are entirely up to you. Because of our amazing online student registration system you're free to pick & choose which option you want for every student. This allows you to create tiers of pricing in your own club or to offer your students the individual choice of a more expensive & fully-featured membership against a more affordable yet basic membership.
Best of all, as the instructor you can be sure the key essentials – such as grade recognition, insurance, licensing & membership, are all covered.
BASIC - £4.10 Per Student, Per Year
You'll receive all of the benefits listed to the left but you won't receive any digital or printed certification. Perfect if you plan to produce your own in-house documents and just need access to the insurance, licensing, membership & professional services.
DIGITAL - £5 Per Student, Per Year
All of the listed benefits (to the left) plus digital certification. You'll receive a membership certificate (A4), license slip (for standard UK license books) and any additional certification or membership documents in PDF format, ready for download 24/7.
PRINTED - £8.35 Per Student, Per Year
As per the above, plus the addition of beautifully printed & delivered BMABA Student documentation, all foiled and stamped for security. License slips will also be printed and sent at the correct size for UK licenses.
EXTENDED - £11.35 Per Student, Per Year
As per the above, plus the addition of an official BMABA license grading book to accompany your registrations; perfect for recording progress, grades and club involvement.
Personal Accident Insurance
Many instructors in our industry get confused about student public liability and personal accident.
We're pleased to be able to offer competitive student personal accident insurance to help you and your students feel more suitably covered, should you need it. It's an optional extra so you don't need to take it, but it's there to help you and your students should you feel it's worth adding.
COST: £6 Per Student (In addition to regular student cost)
What's Covered?
Operative Time: Whilst taking part in BMABA authorised activities only.
Benefits:
---
Death: £ 25,000 (reduced to £10,000 for under 16's)
---
Loss of Limbs or Eyes: £ 25,000 (Continental Scale as defined in the policy)
---
Permanent Total Disablement from any occupation following accident:
£25,000 (Continental Scale as defined in the policy)
---
Physiotherapy Expenses: – Maximum benefit per Member £350
Maximum of 10 sessions per Member
---
Dental Expenses – Maximum benefit per Member £250. Excess each & every claim £25. Excluding damage to dentures; bridges; crowns & all
other dental appliances.
---
Temporary Total Disablement from usual occupation following
accident only: £100 per week. 14 Day Excess each & every claim. Benefit payable for up to 52 weeks. Benefit limited to £50 per week for persons not in gainful Employment.
---
Broken Bones Benefit: Arm; Leg; Cheekbone; & Collar Bone – £100.
Maximum Benefit per Member £300. No cover if a valid claim is made under the Temporary Total Disablement section. A broken wrist would be included if the break occurs at the base of the Radius or Ulna. A broken ankle would be covered if the break occurs in the base of the fibula or Tibia. If any of the smaller surrounding bones were fractured this would not be classed as a broken arm/leg.
Conditions:
Temporary Total Disablement benefit must not exceed 75% of normal weekly income. Excluding any injuries or disablement arising from any pre-existing defect, infirmity or sickness. Insurer: Travellers @ Lloyd's via Pulse Insurance Ltd.
DISCIPLINES WE
RECOGNISE & INSURE
Aiki JuJitsu
Aikido
Aiuchi Ju Jitsu
Aiwakai Karate Do
Ashihara Karate
American Kempo
Angampora
Arnis
Atemi
Ba Ji Quan and Tai Chi
Baguazhang
Bajiquan
Bajutsu
Bando
Bartitsu
Bataireacht (Irish Stick Fighting)
BMABA Approved Disciplines & Styles
Bojitsu
Bojuka
Bojutsu
Bokator
Bokh (Mongolian Wrestling)
Brazilian Ju Jitsu (BJJ)
British Combat Judo
British Folkstyle Wrestling
Budokon
Bujinkan Budo
Bujinkan Budo Tai Jutsu
Bujutsu
Bushi Kempo
Bushido
Butthan
Canne de Combat
Capoeira
Catch Wrestling
Ch`uan Fa
Ch`uan Shu
Chambarra
Cheibi Gad-Ga
Chi Gong
Chinese Kickboxing
Choy Li Fut
Choi Kwang Do
Close Protection Training
Close Quarter Combat (CQB)
Combat Hapkido
Combat Hopak
Combat Sambo
Conflict Management
Coreeda
Cuong Nhu
Dacayana Eskrima
Daido Juku Kudo
Daito-ryu
Daito-ryu Aiki Jujitsu
Dambe
Danzan Ryu
Drunken Fist (Zui Quan)
Dumog
Eagle Claw Kung Fu
Enshin Kaikan
Escrima
Fencing
Feng Shou
Filipino Martial Arts
Fitness Orientated Kickboxing
Folkstyle Wrestling
Freestyle Jujitsu
Freestyle Karate
Freestyle Karate Jutsu
Freestyle Kung Fu
Freestyle Kickboxing
Freestyle Taekwondo
Fu Jow Pai
Gatka
Glima
Goju Kai Karate Do
Goju Ryu Karate
Gongkwon Yusul
Goshin Jutsu
Goshin Ryu Kempo Jujitsu
Haidong Gumdo
Hakuda
Han Mu Do
Hanbojutsu
Hapkido
Historical European Martial Arts (HEMA)
Historical Fencing
Hojojitsu
Hsing-i
Hsing-yi
Hung Ga
Huyen Langlon
Hwa Rang Do
Hwarang-do
Iaido
Iaijutsu
Icho-Ryu
Iinkai Judo
Isshin-Ryu Karate
Itto-Ryu
Jado Kuin Do
Japanese Shotokan Karate
Jeet Kune Do
Jikiden Eishin Ryu Iaido
Jojutsu
Judo
Jujitsu
Jun Fan Gung Fu
Jun Fan Jeet Kune Do
Jutsu
Kaiai Jitsu
Kajukenbo
Kalaripayattu
Kali
Kali Silat
KAPAP
Karate
Karate Jutsu
Karate-Do
Karate-Jitsu
Kaze Arashi Ryu
Kempo
Kempo Jujitsu
Kempo Ryu
Ken Fat
Kendo
Kenjutsu
Kenpo
Kenshin Karate
Keysi
Ki Aikido
Kick Boxing
Ko Budo
Kobudo
Kokondo
Korean Kickboxing
Koryu Uchinadi
Krabi-Krabong
Krav Maga
Kuk Sool Won
Kumdo
Kung Fu
Kung Fu To'a
Kyokushinkai Karate
Kyudo
Lathi Khela
Lau Gar
Lau Gar Kickboxing
Lau Gar Kung Fu
Lee Style Tai Chi
Leopard Kung Fu (Bao Quan)
Lerdrit
Maarlisk
Malla Yuddha
Marine Corps Martial Arts Program (MCMAP)
Martial Arts Based Fitness
Martial Arts Wrestling
Military Martial Arts
Mixed Martial Arts (MMA)
Monkey Kung Fu (Hou Quan)
Muay Boran
Muay Thai
Nearu Martial Art
Nihon Goshin Ju Jitsu
Ninjitsu
Ninpo Taijutsu
Ninjutsu
Niten Ichi-Ryu
North West Chinese Kickboxing
Okichitaw
Pa Kua
Pa Qua
Panantukan
Pankration
Personal Protection
Physical Intervention
Pradal Serey
Qi Kwan Do
Qwan Ki Do
Quan Fa
Reality Based Martial Arts
Russian Martial Arts
Sanjuro Martial Arts
Sankukai Karate
Sanshou
Sarak
Sarit
Savate
Seiki Juku Karate
Self Defence
Self Protection
Shaolin Kempo Karate
Shaolin Kung Fu
Shaolin-Tsu Kempo
Shintaido
Shito-Ryu Karate
Shindo Jinen Ryu
Shorinji Kempo
Shorin-Ryu Karate
Shotokan Goju Ryu
Shotokan Karate
Shuai Chiao
Shuai Jiao
Shukokai
Shukokai Karate
Shuri-Ryu
Sibpalki
Sikaran
Silambam
Silat
Sokudo
Soo Bahk Do
Sport Boxing (Martial Arts Based)
Sport Karate
Sport Sambo
Ssireum
Submission Wrestling
Sumai
Sumo
Sulkido
Systema
Taekkyeon
Taekwondo
Tai Chi
Tai Chi Chuan
Tai Jutsu
Taido
Taijutsu
Tang Soo Do
Thai Boxing
Thang-ta
Tiger Claw Kung Fu (Fu Jow Pai)
Tora Kai
Traditional Aikido
Traditional Italian Martial Arts
Traditional Karate
Traditional Wado Ryu
Unarmed Combat
Viet Vo Dao
Wado Ryu Karate
Wing Chun
Wing Chun Kung Fu
Wing Tsun
World Tang Soo Do
Wushu
Yoseikan Budo
Zen Shin Karate
Our association has the full authority to add additional styles as required. Provided it's legitimate, we should be able to insure it. If you can't find your discipline above, contact us and we'll try and help.
3 Section Staff
6″ Staff
Bamboo Sword
Baton
Blunted Metal Sabre
Bo
Bo Staff
Bokken
Bow & Arrow**
Broadsword (Blunted)
Broadsword (Wooden)
Butterfly Knives (No Live Blades)
Cane
Chain
Chain Whip
Clubs
Clubs (Wooden)
Cosh (Blunted Blade Only)
Dagger (Blunted Blade Only)
Dan Bong (Short Sticks)
Dummy Weapons
Escrima
Escrima Sticks
Fan
Foam Batons
Foam Weapons
Focus Mitts
Guns (Plastic)
Habo Staffs
Hanbo
Iaito (Practice Only)
Janbo
Jo
Jo Staff
Jutte/Jitte
Kali Sticks
Kama (Blunted Blade Only)
Katana (Blunted Blade Only)
Kendo Shinai
Kenpo Sticks
Knives (Blunted Metal)
Knives (Plastic)
Knives (Rubber)
Knives (Wooden)
Kubotan
Kunai (Blunted Blade Only)
Leather Whip
Naginta (Blunted Blade)
Nawa
Nunchaku
Padded Sticks
Padded Weapons
Plastic Bottle
Plastic Weapons (No Live Blades)
Pole
Practice Sword (No Live Blades)
Qiang
Rice Flail
Rokushaku Bo (Japanese Staff)
Rope
Rubber Sticks
Rubber Weapons
Safety Weapons
Sai
Shaolin Staff
Shields
Shinai (Blunted Blade Only)
Shoriken
Shuko (Demonstration Only)
Spear
Staff
Sticks
Swords (Blunted Metal)
Swords (Plastic)
Swords (Rubber)
Swords (Wooden)
Tai Chi Sword (Blunted Blade Only)
Tambo
Tanto
Tessen
Tiger Fork
Togakure Bokken
Tonfa
Training Knife (No Live Blades)
Training Swords (No Live Blades)
Training Weapons (No Live Blades)
Wing Chun Pole
Wooden Shou
Wooden Weapons (No Live Blades)
Recently Added



Yari (Japanese Spear)
Barsha
Gola
Kirpan
Malati
Chakkar
Open Chakkar
Katar
Kanjar
Just a couple of testimonials…
"I would like to thank everyone on the BMABA Team that has helped me during my time with what can only be described as the best Martial Arts Association I have ever belonged to and I am proud to be one of its first members. Giovanni, you are an inspiration and entrepreneur for those that embrace a politics-free association, professionally run and a shining example for the rest. Keep up the good work – the recognition is already there and I suspect it will continue. The BMABA is the association that I had hoped and dreamed about to allow me to start teaching self defence with the support and advice I needed, but without the politics and interference I wished to avoid."

"Someone has answered my gentle prayers and FINALLY designed an organisation that will leave you stress-free in the world of MARTIAL ARTS 🙂
I am so excited to leave my recommendation because words cannot describe how much BMABA means to me and how it has changed everything in my organisation for the better. They are literally representing what we are about here at British MMA in West London, Brentford. We go by 'Traditional Values with a Modern Approach'. They are so much more and you can take it from me – you'll never find any other organisation or company doing GREATER things than this team BMABA. For all those who are still traditional and thinking old ways of not changing things around in case there are some concerns. Give me a call from our website or facebook page and I will personally give you a recommendation in why you should change and revamp everything in your club or as an instructor with the BRITISH MARTIAL ARTS & BOXING ASSOCIATION.
Questions & Answers (FAQs)
Is there a minimum student registration number per year?
No, there isn't. You can register as many or as few students as you wish. You'll still just pay the quoted 'per student, per year' price.
Who underwriters the policy?
Our specialist group cover policy is underwritten by a 'syndicate' of different insurers, as the policy provides access to a number of different types of insurance. We (the association) are the policy holder and you are assigned to the policy with membership.
You can read the full policy wording here, as well as the exclusions and limitations here. Personal Accident provisions can be seen here.
If there's anything else you'd like to see or feel is needed to make an informed decision about the policy's suitability, please contact us.
What about students trying my club? Do they need to register?
We offer completely free 28 day temporary cover to all premium members, so you can register students for free whilst they try out your club. This will be our standard full student Public Liability combined with membership at £1,000,000 Public Liability.
Can I see the policy wording and conditions?
Absolutely. We're very open about the policy you're assuming cover under, for obvious reasons. You can view the policy wording below. Please don't hesitate to let us know if you have any questions.
Is there an age limit on students?
Technically no, but we impose a 4 year old through to 75 year old default range as standard. If you need cover outside of this, please speak with us first.