What Just Happened?
In England
On Tuesday 23rd July the collective UK martial arts community awaited news from the Boris Johnson on lockdown measures being eased. With bated breath, we heard how hairdressers, cinemas, museums, galleries, restaurants, shops and pubs joined the long list of other businesses now permitted to trade in England. We also heard how two families could meet – indoors or outdoors – and that social distancing would be reduced from two meters to one meter 'plus'.
Whilst from July 4th it will be possible to get your haircut, visit the cinema, pop into a museum on the way home (whilst traveling by tube or public transport), stop off for non-essential shopping before heading back to the local social club's bar for drinks the Government have deemed that social distanced, non-contact indoor martial arts in the hall within the (soon to be) open social club is NOT permitted.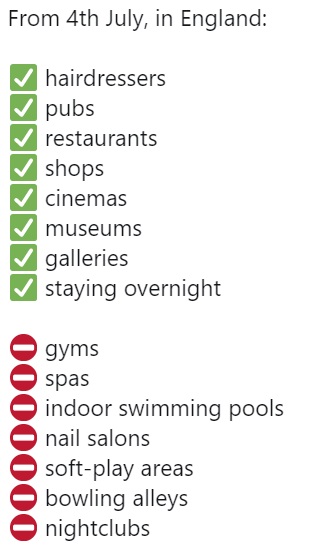 Yet again, martial arts has been completely ignored. Squeezed between gyms and fitness coaches, the rules seem very vague and somewhat interchangeable. This in itself is leading to clubs and instructors interpreting guidelines as they see fit putting many 'offside' with the law.
So What Next?
The latest guidance, albeit it just a tweet, is that the Government plan to try and re-open gyms 'mid-July'. For now clubs and instructors should continue to deliver outdoor training per the latest guidance in anticipation of a further update on venues permitting classes to start up.
There will undoubtedly be confusion amongst many venues, community centres and instructors. Some venues may begin taking bookings for martial arts lessons again but from all of the latest guidance available to us at the moment, this should not be happening. Martial Arts does sit in a strange position somewhere between gyms and fitness instructors. The closest place we can look for clarity right now is Gyms – which are to remain closed.
With this in mind our current guidance must be to sit tight, let us continue to make noise on your behalf, and push on with outdoor and online lessons. We are – hopefully – nearly out of this one with around 2-3 weeks left until the nebulous mid-July point arrives.
---
What About Our Devolved Nations?
The devolved nations – which are all following a separate lockdown timeline – are pushing on to make changes as seen fit by the respective governments and assemblies.
Wales
Measures are still much more restrictive and it is currently not possible to teach martial arts in a meaningful way other than by online means. The latest guidance on the matter is available below;
Can outdoor sports classes restart?

Yes but only if no more than two households are taking part at any one time and social distancing is maintained at all times between the households. (Welsh .GOV)
Scotland
Scotland is permitting outdoor training provided there is no contact, social distancing is followed and that 'coaches do not deliver training to more than two households at any one time or provide training to more than two households per day'. This too makes in person training all but impossible for the time being, with the next review being scheduled for June 29th.
Northern Ireland
The message in Northern Ireland is not especially clear. There are 'nods' toward distancing measures and permissions closely following England with guidance permitting outdoor sports facilities opening on June 8th. There will clearly be the need to adhere to strict social distancing measures, so consult with NI Direct for the latest.
---
So What Next?
For now, push on. Drive on in rebuilding your website, sharpening your syllabus and re-writing your policies. Sit your safeguarding qualifications (digitally), get your club up to date and get ready for an eventual 'return to the mats'. Right now this is difficult times for martial arts (to put it lightly) but we will – soon – be back in our dojos and gyms.