Anyone who has ever dealt with BMABA before will know we're big on packing a punch when it comes to membership. That's why we already provide over 120 membership features as standard for our paying members and this is set to increase further into 2021.
In the build-up to Black Friday and Christmas, we feel it's the perfect time to unveil our latest membership feature. We're providing every member of the British Martial Arts & Boxing Association (BMABA) including all students, with free access to an exclusive app called Shop St.
What Is Shop St. and What Is It For?

In a nutshell, Shop St. provides discounts across hundreds of retailers quite literally across everything including Technology, Travel, Entertainment, Shopping, Fashion, Takeaway, Restaurants and more. Major retailers like Amazon, Costa, Next, Adidas, Uber, Asda, Tesco, Sainsburys, Currys, Pizza Express and hundreds more are included, offering discounts of up to 25% off purchases.

You can learn more about how Shop St. works from here.
Why Are We Introducing This?
Times are hard, and for martial arts, that often means times are even harder. We know many clubs are funded from the pockets of their instructors and whilst our longer term ambition will be to work with Shop St. to include more martial-arts centric suppliers, initially it provides an incredible opportunity for our members to save money on their consequential spending. This means saving money against purchases they have to make anyway – such as food, travel, gifts and so on.
Martial Arts has always been chronically underfunded. It's hard to find an instructor or club that feels UK Government or their various agencies (Sport England, DCMS etc) are investing a suitable level of funds into the promotion of grass roots participation and the improvement of professional standards. This has been a source of deep-frustration for BMABA for a number of years. It's why we've gone on to found the BMABA Group of Social Enterprises – to build a sustainable, long-term approach to funding for core Charitable martial arts. We do this by channelling our profits into the Fighting Chance Foundation that uses martial arts to change lives across the UK.
Shop St. provides a superb opportunity for our Group to fundraise in a sustainable, long-term way to secure the generational work being done by the Foundation. Better still, it provides a benefit to the club or student using the app. Rather than asking for £2 a month and so on, we simply encourage members to use the Shop St. app for their day to day transactional spending. In the process, you save money from hundreds of your favourite retailers and in turn the Foundation receives a share of that saving.
Sustainable. Long-term. Completely new.
From your morning cup of coffee, to the next Dojo laptop through to your equipment purchases on Amazon. It's all in the app.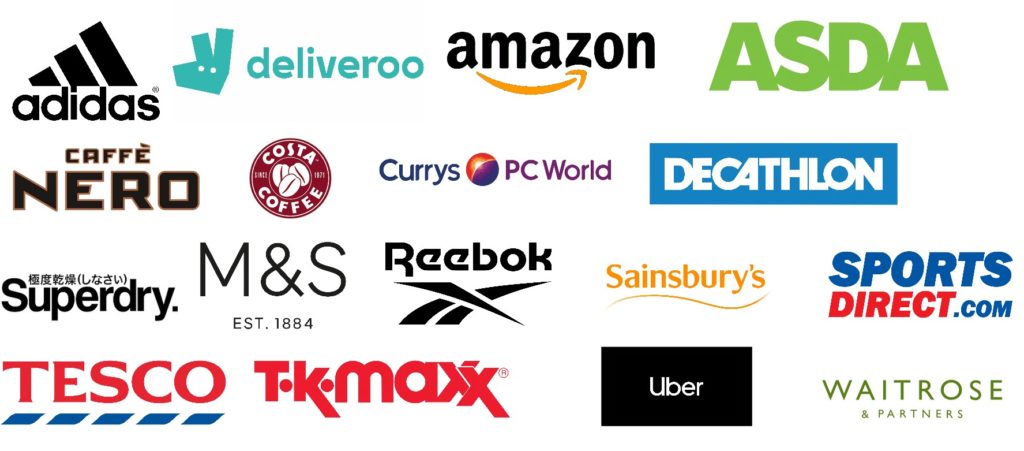 What Retailers Are Available?
The below list shows available retailers as of 03/11/21.
Pssss.. this list keeps growing!
Adidas
AirlineGift
All Bar One
AMARA
Amazon
App Store & iTunes
Argos
Arsenal Football Club
ASDA
Ask Italian
Away Resorts
B&Q
Bateaux London Cruises
Beer52
Belhaven
Bella Italia
Better
Bloom & Wild
Bonmarché
Boohoo
Boxtails
Browns
Butlins by Inspire
Buyagift
Café Rouge
Caffè Nero
Chef & Brewer
Clarks
Cornerstone
Costa
Crown Carveries
Currys PC World
Decathlon
Deliveroo
Digiigifts
Disneyland Paris by Inspire
Dune
eLearn Gift
Ember Inns
Ernest Jones
Eurostar
FabYouLess
Farm Foods
Famhouse Inns
FatFace
Flaming Grill Pubs
FlystayGift
FootLocker
Footasylum
GAP
Global Hotel Card
Go Ape
Google Play
Great British Pub
Greene King
H Samuel
H&M
Habitat
Halfords
Harvester
Hasting Hotels
Haven by Inspire
Hello Fresh
Homesense
Hoseasons by Inspire
HotelsGift
Hungry Horse
Hussle
IKEA
Innkeeper's Lodge
Inspire Staycation Card
Inspire TravelCard
Jet2 Holidays by Inspire
John Lewis & Partners
JoJo Maman Bébé
Just Eat
Krispy Kreme
Laithwaite's Wine
Las Iguanas
Lastminute.com
Lavish Spa Vouchers
Leisure Vouchers
Leon
Loch Fyne
London Steakhouse Co.
London Theatre Direct
Love2Shop Rewards
Malmaison
Mango
Marks & Spencer
McColls
Miller & Carter
Morrisons
MP Co.
National Book Tokens
National Express
National Trust
New Look
Nicholson's
Not on The High Street
O'Neill's
Pizza Express
Pizza Hut Restaurants
Prezzo
Primark
Racingbreaks.com
Rakuten TV
Red Letter Days
Reebok
RentacarGift
River Island
Royal Caribbean by Inspire
Sainsbury's
Sizzling Pubs
Sky Store
Sports Direct
Spotify
Stonehouse
Superdry
Tastecard
Tesco
The Body Shop
The Dining Out Card
The Entertainer
Global Experiences Card
Hotel Card
Magazine Gift Card
The Original Tour
The Restaurant Card
The Restaurant Choice
Theatre Tokens
Ticketmaster
TK Maxx
Toby Carvery
Touchnote
ToursGift
TripGift
Turtle Bay Restaurants
Uber Eats
Uber Rides
Urban
Vintage Inns
Virgin Experience Days
Virgin Gift Card
Virgin Wines
Waitrose & Partners
Waterstones
Wayfair
Xbox
Zalando
Zip World
Zizzi
How Does It Work?
Shop St. is easy to use.
1) Shop as usual.
You don't have to spend any more than you usually would. Simply carry on with your usual day to day spending. From groceries and technology to Uber rides and takeaways – you'll find retailers on the app.
2) Instead of checking out as usual, purchase a voucher in Shop St.
Rather than checking out as you usually would with a debit card, login to the Shop St. app, find the retailer and purchase the desired amount as a voucher. You can then checkout with the voucher code. The app makes clear which retailers accept online and/or in-person vouchers. Every retailer offers a different discount percentage. You'll see the saving in real-time whilst purchasing your voucher.
3) You'll see the saving you've made at the point of purchase, and on your dashboard.
Support The Fighting Chance Foundation Through Shop St.
We think the best relationships in life happen when both parties get something out of the arrangement. That's why, as part of our renowned social enterprising, we're doing something completely different to the usual 'donate your money' model to sustain a long-term funding model for the Fighting Chance Foundation.
We're inviting users to use Shop St. Shop St.is a free to use app reserved usually for employers and NGOs. We're the first association in the UK to utilise this app. You can use it to save between 3% – 25% on purchases across hundreds of retailers and services. Everything from Clarks, Waitrose, Sainsburys, Tesco and Asda through to Uber, JustEat, Package Holidays, Zara and Halfords.
Instead of purchasing a product or service via your card, you simply purchase a 'voucher' through the app at the discounted rate. So, for example, if a shop is offering 10% off, your £100 shop costs £90 through ShopSteet. You save money, and as a benefit for the Foundation, the app will donate a small percentage of their margin to the Foundation to progress their work.
Everyone's a winner!
Access Hundreds Of Retailers
Shop St. provides access to hundreds of top retailers. From entertainment and fashion to groceries and household. Eating out to takeaways, Uber to Amazon, you'll find a retailer you recognise in the app.
Track Your Savings
Much like martial arts training, constant little savings soon add-up and Shop St. will show you how much you've saved in real-time from the dashboard. This makes it easy to see the difference the app has made to either (or both) your club or personal spend.
Save Money On Day To Day Purchases As Well As Club Spending
Whether it's the weekly foodshop in Tesco or Asda, a new bike from Halfords or a set of focus mitts from Amazon. Be it dinner at Pizza Express or a club purchase from Sports Direct – you can save money with Shop Street.
The app is originally designed for large companies to deploy to employees as a 'benefit in kind'. It's such a perk that it's use equates to a c. 5% pay rise. This app isn't available to the public and is very exclusive. We will pay your licence fee forever as a perk of membership so you're free to download the app and get started.
The idea is for your everyday purchases – the spending you would have to do anyway – to go through the app in the form of vouchers which are then redeemed on day to day spending. You'll save money as you go and the ever-increasing saving is shown for you in the app.