So much of this year's posts have been about COVID and the damage Coronavirus has unleashed on grass roots martial arts. As we start to approach what we hope will be the last of lockdowns across the UK, we're starting to focus on 2021 and how best to help our clubs recover.
Pre-pandemic, more than half of all people searched for a service or business on a mobile. Practically everyone will use the internet to find a local martial arts club. Whilst social media is a great platform for reaching and engaging with new and existing students, it's not the right place for the detail and depth needed to bring new students onboard, or to convince parents you're the right club for their child. That's where a website comes in.
We have been offering our members free websites since 2012. It's always been a staple part of BMABA's offering and we have been well ahead of the competition in this respect. Even as one or two of the 'bigger players' tried to imitate this service last year, they needed to rely on a relay service in which the club owner has to keep sending over word documents, waiting 4 weeks, and then seeing if the changes are per their requirement. We know this isn't nearly fast enough for a club at the best of times, let alone a club looking to move quickly to rebuild in 2021.
Up until now, we've offered every club a free WordPress website. Whilst we still maintain this is hands down the best piece of software in the world, we know the learning curve and time requirements to build a professional site using WordPress is steep. We also know most clubs already believe they have too much admin and not enough time 'on the mats'.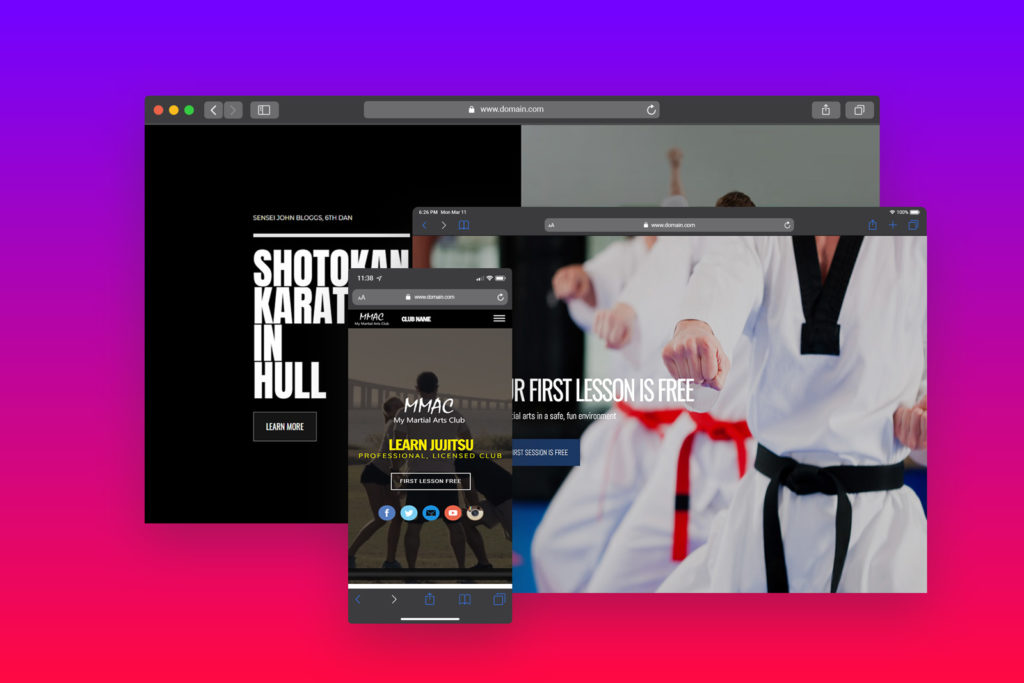 That's why we're proud to have teamed up with MartialHost, one of our sister organisations, united by the BMABA Group of Social Enterprises. We have provisioned a completely revolutionary new service to our members worth more than £400 per year called MartialClub. To help clubs make use of the new tools and to help clubs who are still quite a bit behind, we've decided to move as quickly as we can to help our members utilise the remaining downtime in England through lockdown.
Here's what we've decided to do;
We've set aside £10,000 as part of a new 'website scrappage scheme' to encourage clubs with outdated sites to 'trade them in' for a brand new, up to date site.

We will be funding entirely, up to £10,000, for the provision of either fully managed WordPress hosting (on a limited basis for our larger clubs) and the full offering of the entire MartialClub product, including their drag and drop code free site builder.

We will be funding domain names for clubs on a needs-must basis and will be subsidising the costs for clubs who don't fit the criteria.

We're going to be offering fully funded site migrations to help clubs port across existing sites they wish to keep, so we can foot the bill for their hosting and remove the additional cost from their club.

We're pledging to ensure that no BMABA club has to worry about the cost of web hosting or website / web designer support with this being fully funded by us.

This scheme will run until 31st December at which point we will be rolling additional funding (or remaining funds) into a new programme to aid club recovery in 2021.
So how would this help my club?
Effectively, you will never need to pay for hosting again. This should mean you can cancel the direct debit for GoDaddy or whoever else you host with, saving on average £10-£20 per club, per month (£120 – £240 per year each which is often more than the entire association and insurance costs!).
What does this mean for my club, in practical terms? I don't know anything about web design.
You don't need to. We're effectively hoping to move all clubs with standard website requirements onto the new MartialClub service. This will enable any club or instructor the opportunity to build a professional, fast and secure website without needing to know any code and in an average of 1 hour per site. Your club will also have a custom domain name (i.e: yoursite.com) or a free subdomain site from a leading website name (i.e: yoursite.ukmartialarts.org.uk) as well as free business webmail (i.e: you@yoursite.com), free SSL certificate, free expert web designer guidance and support and more.
For sites with larger requirements, we will be selectively funding WordPress managed hosting (which is much more substantial in cost and nature) to ensure secure, powerful site hosting with maximum performance. This will also include free webmail (i.e: you@yoursite.com) and a free SSL certificate too.
You can sneak a peak at the quality of the drag and drop, code-free website builder available to all of our members via MartialClub below;
I'm a member. How do I get started?
Read this press release in MyBMABA here which includes links to get started.
I'm not a member yet. Can I access this?
Join us today on any of our premium (paid) membership plans – with or without insurance – and we will be happy to offer you access to the scheme up to 31st December. We intend to provide an equally substantial service for 2021, too.
You can learn more about the offer we make to keep clubs online here.
"What help can BMABA provide my club over the coming months?"
---
We can confidently say there is no other martial arts association in the UK that has done anywhere near as much as BMABA in supporting, guiding and protecting our clubs during lockdown. Naturally, this proactive and industry-first approach will continue throughout recovery through to the end of next year when we anticipate the potential of martial arts being back to pre-Covid conditions.
Everything from a free Covid-Aware martial arts instructor qualification and Covid-Policy through to marketing material, council liaison services, risk assessments, covid and hygiene equipment, club communications, subsidised insurances, free qualifications and courses, business support, covid-recovery toolkits and so, so much more. Our guidance on evolving regulation and easing of lockdown measures is properly curated and managed for accuracy, and we're working across our extensive group of not for profit organisations to make it easier and more affordable than ever to keep your club alive during lockdown, and thriving when you can safely re-open.