Just before our 8th Birthday in September we pledged to not only start running as the industry's first Carbon Neutral Martial Arts Association but to take it one step further – offsetting all of our Carbon Emissions since forming in 2012. We always said we were keen to extend this effort further and we're very pleased to confirm that this is now in motion, ready for January 2021.
What's Changing?
Effective from January 2021, we're going to not only be ensuring our organisation remains Carbon Neutral – we're going to include our clubs, too. We thought long and hard about the logistics of this and how best to implement it at club level. The obvious solution was that clubs submit a small surcharge with their memberships for Carbon Neutral status but given COVID and the steep hill to recovery most clubs face in 2021, we couldn't in good faith make the administrative side of running a club a single penny more expensive than it absolutely had to be.
With this in mind, we've decided to fund the entire carbon offset for our member clubs indefinitely. This means we will pay any and all fees required to ensure the BMABA as a whole – our organisation, staff, offices – as well as our members, including both instructors and students – are offsetting all carbon emissions.
We're going to go one further and not just pledge to offset our carbon. We're going to ensure we're carbon positive. This means we're offsetting all of the carbon we create and then moving into the positive, to help offset the activities of the wider martial arts community.
How Are We Going To Do This?
Primarily, through tree planting. It's very hard to see a more impactful way to create mass change than planting more green earth in our forests and woodland. Whilst we will look to fund tree-planting in some parts of the world that need it most urgently, we will also pledge to ensure there is always a percentage of our planting taking place here in the UK.
Will We Report On Progress?
Yes, absolutely. We intend to publish the full details on how many trees we've planted and the carbon we've offset. Here's our offsetting report for our staff, just for November. Already 5.83 tonnes of Carbon offset to make sure our office and employment doesn't contribute negatively.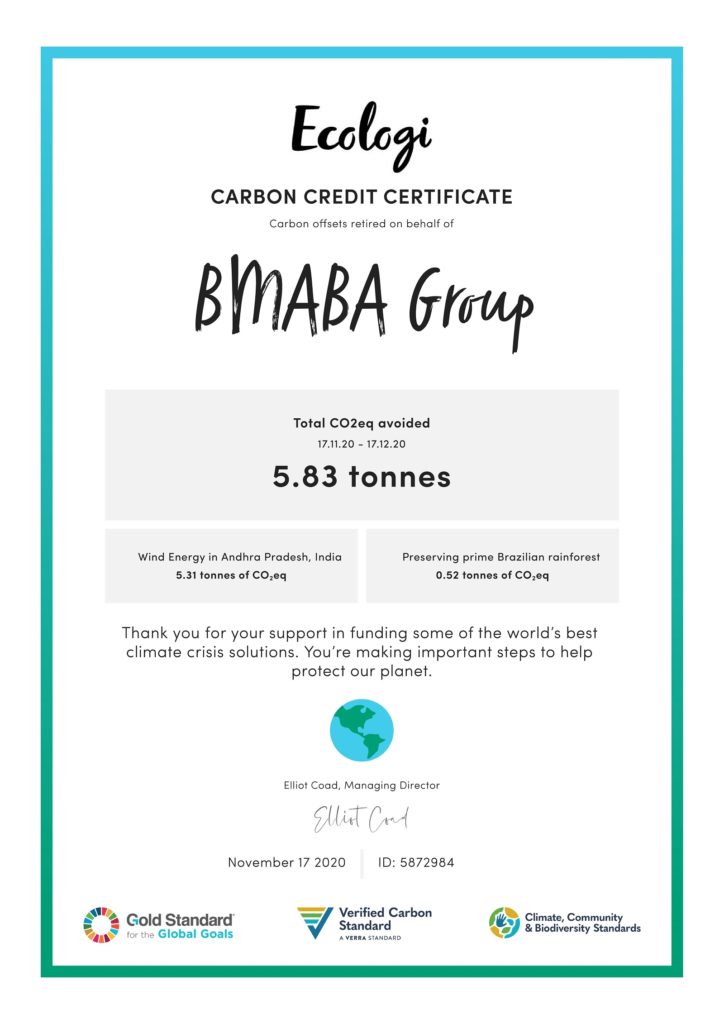 How can I learn more?
Take a look at our Carbon Neutral promise here.
I'm not a member yet. Can I access this?
Every membership purchased will be met by our Carbon Neutral Martial Arts Scheme promise automatically. This also includes renewals. We will provide certification for all clubs shortly so they can demonstrate their Carbon Neutral Status in their communities, too.
"What help can BMABA provide my club over the coming months?"
---
We can confidently say there is no other martial arts association in the UK that has done anywhere near as much as BMABA in supporting, guiding and protecting our clubs during lockdown. Naturally, this proactive and industry-first approach will continue throughout recovery through to the end of next year when we anticipate the potential of martial arts being back to pre-Covid conditions.
Everything from a free Covid-Aware martial arts instructor qualification and Covid-Policy through to marketing material, council liaison services, risk assessments, covid and hygiene equipment, club communications, subsidised insurances, free qualifications and courses, business support, covid-recovery toolkits and so, so much more. Our guidance on evolving regulation and easing of lockdown measures is properly curated and managed for accuracy, and we're working across our extensive group of not for profit organisations to make it easier and more affordable than ever to keep your club alive during lockdown, and thriving when you can safely re-open.