We know for numerous clubs that practice style(s) outside of a Sport England NGB that the thought of having to remain at Phase 0 (socially distanced, zero contact training) until June 21st at the earliest has been an incredibly difficult realisation to arrive at. We know it's further impacted by some clubs with access to a phased return of contact training, and others who are having to make use of 'neighbouring' policies from closely associated disciplines. All in all, it's far from ideal.
With this in mind, we're very pleased to say that following complex discussions with Sport England's Return to Play team over the past few weeks, we've now been given permission to issue a temporary policy that will allow all styles currently without a formally accepted Return to Play policy the opportunity to resume at Phase 1 and 2 (as relevant) at an organisation level.
Exactly Why This Is Important And What It Means?
Until now only a very small number of styles and disciplines which have a Sport England approved NGB have been granted the ability to have a Return to Play (RtP) policy reviewed and approved. These styles are;
Boxing
Brazilian Jui-Jitsu
British Ju Jitsu
Taekwondo
Judo
Wrestling
Kickboxing
Aikido
Kendo
Karate
Krav Maga
(Please note that at time of writing, some of these disciplines are yet to have their RtPs formally approved)
With more than 100 disciplines and styles represented by BMABA alone there is clearly a huge section of the independent market that until now has had no firm way of out Phase 0, zero-contact training.
The confirmation we have received from Sport England today (15/04/21) now permits us to publish to our members a specific policy framework that will act as a temporary RtP policy document. This will allow all currently unrepresented styles access to the DCMS phases of return and the wider risk mitigation measures seen by the above referenced policies.
This will enable all styles of martial arts we represent the ability to resume contact training at Phases 1 and 2 (per the DCMS guidance) whilst any formal reviews for RtPs are assessed by DCMS.
What Styles Would Be Able To Use BMABA's Guidance?
Only styles without a DCMS approved Return to Play policy would be able to make use of this guidance policy document. It is not an approved Return to Play policy – we have agreed with Sport England that as the process for this to happen is lengthy, whilst we continue to work toward this on a few differing disciplines, a temporary and immediate document that ties together official guidance for styles without representation would be much more beneficial.
Aiki JuJitsu
Aikido
Aiuchi Ju Jitsu
Aiwakai Karate Do
Ashihara Karate
American Kempo
Angampora
Arnis
Atemi
Ba Ji Quan and Tai Chi
Baguazhang
Bajiquan
Bajutsu
Bando
Bartitsu
Bataireacht (Irish Stick Fighting)
Bojitsu
Bojuka
Bojutsu
Bokator
Bokh (Mongolian Wrestling)
Brazilian Ju Jitsu (BJJ)
British Combat Judo
British Folkstyle Wrestling
Budokon
Bujinkan Budo
Bujinkan Budo Tai Jutsu
Bujutsu
Bushi Kempo
Bushido
Butthan
Canne de Combat
Capoeira
Catch Wrestling
Ch`uan Fa
Ch`uan Shu
Chambarra
Cheibi Gad-Ga
Chi Gong
Chinese Kickboxing
Choy Li Fut
Choi Kwang Do
Close Protection Training
Close Quarter Combat (CQB)
Combat Hapkido
Combat Hopak
Combat Sambo
Conflict Management
Coreeda
Cuong Nhu
Dacayana Eskrima
Daido Juku Kudo
Daito-ryu
Daito-ryu Aiki Jujitsu
Dambe
Danzan Ryu
Drunken Fist (Zui Quan)
Dumog
Eagle Claw Kung Fu
Enshin Kaikan
Escrima
Fencing
Feng Shou
Filipino Martial Arts
Fitness Orientated Kickboxing
Folkstyle Wrestling
Freestyle Jujitsu
Freestyle Karate
Freestyle Karate Jutsu
Freestyle Kung Fu
Freestyle Kickboxing
Freestyle Taekwondo
Fu Jow Pai
Gatka
Glima
Goju Kai Karate Do
Goju Ryu Karate
Gongkwon Yusul
Goshin Jutsu
Goshin Ryu Kempo Jujitsu
Haidong Gumdo
Hakuda
Han Mu Do
Hanbojutsu
Hapkido
Historical European Martial Arts (HEMA)
Historical Fencing
Hojojitsu
Hsing-i
Hsing-yi
Hung Ga
Huyen Langlon
Hwa Rang Do
Hwarang-do
Iaido
Iaijutsu
Icho-Ryu
Iinkai Judo
Isshin-Ryu Karate
Itto-Ryu
Jado Kuin Do
Japanese Shotokan Karate
Jeet Kune Do
Jikiden Eishin Ryu Iaido
Jojutsu
Judo
Jujitsu
Jun Fan Gung Fu
Jun Fan Jeet Kune Do
Jutsu
Kaiai Jitsu
Kajukenbo
Kalaripayattu
Kali
Kali Silat
KAPAP
Karate
Karate Jutsu
Karate-Do
Karate-Jitsu
Kaze Arashi Ryu
Kempo
Kempo Jujitsu
Kempo Ryu
Ken Fat
Kendo
Kenjutsu
Kenpo
Kenshin Karate
Keysi
Ki Aikido
Kick Boxing
Ko Budo
Kobudo
Kokondo
Korean Kickboxing
Koryu Uchinadi
Krabi-Krabong
Krav Maga
Kuk Sool Won
Kumdo
Kung Fu
Kung Fu To'a
Kyokushinkai Karate
Kyudo
Lathi Khela
Lau Gar
Lau Gar Kickboxing
Lau Gar Kung Fu
Lee Style Tai Chi
Leopard Kung Fu (Bao Quan)
Lerdrit
Maarlisk
Malla Yuddha
Marine Corps Martial Arts Program (MCMAP)
Martial Arts Based Fitness
Martial Arts Wrestling
Military Martial Arts
Mixed Martial Arts (MMA)
Monkey Kung Fu (Hou Quan)
Muay Boran
Muay Thai
Nearu Martial Art
Nihon Goshin Ju Jitsu
Ninjitsu
Ninpo Taijutsu
Ninjutsu
Niten Ichi-Ryu
North West Chinese Kickboxing
Okichitaw
Pa Kua
Pa Qua
Panantukan
Pankration
Personal Protection
Physical Intervention
Pradal Serey
Qi Kwan Do
Qwan Ki Do
Quan Fa
Reality Based Martial Arts
Russian Martial Arts
Sanjuro Martial Arts
Sankukai Karate
Sanshou
Sarak
Sarit
Savate
Seiki Juku Karate
Self Defence
Self Protection
Shaolin Kempo Karate
Shaolin Kung Fu
Shaolin-Tsu Kempo
Shintaido
Shito-Ryu Karate
Shindo Jinen Ryu
Shorinji Kempo
Shorin-Ryu Karate
Shotokan Goju Ryu
Shotokan Karate
Shuai Chiao
Shuai Jiao
Shukokai
Shukokai Karate
Shuri-Ryu
Sibpalki
Sikaran
Silambam
Silat
Sokudo
Soo Bahk Do
Sport Boxing (Martial Arts Based)
Sport Karate
Sport Sambo
Ssireum
Submission Wrestling
Sumai
Sumo
Sulkido
Systema
Taekkyeon
Taekwondo
Tai Chi
Tai Chi Chuan
Tai Jutsu
Taido
Taijutsu
Tang Soo Do
Thai Boxing
Thang-ta
Tiger Claw Kung Fu (Fu Jow Pai)
Tora Kai
Traditional Aikido
Traditional Italian Martial Arts
Traditional Karate
Traditional Wado Ryu
Unarmed Combat
Viet Vo Dao
Wado Ryu Karate
Wing Chun
Wing Chun Kung Fu
Wing Tsun
World Tang Soo Do
Wushu
Yoseikan Budo
Zen Shin Karate
Has This Decision Been Approved By Sport England?
Yes, it has. Throughout the pandemic we have steered toward only releasing guidance which is factual and to the best of our knowledge accurate. When Return to Play policies were mandated before styles could resume contact training, rather than publishing what we thought might be permissible, we've established direct contact with Sport England's Return to Play team and have secured confirmation that;
Any club from any association can make use of DCMS approved Return to Play Policies, meaning if an NGB policy has been approved, any club can make use of it without being a member of that organisation.
And
That we may release an interim BMABA Return to Play policy that will act as a general guidance policy for all styles we represent currently without an official Return to Play policy in place.
It's important to stress that this policy document does not supersede or replace the DCMS approval route. Following our complex discussions, Sport England have recognised the need to allow styles without a formal NGB a route back to contact training and understanding that an approved DCMS RtP might never emerge for some styles, they have agreed that a general policy document will allow our clubs the opportunity to resume on a standardised framework. This does not grant exemptions from what is currently permitted with other Return to Play policies, but it does allow clubs who currently have no policy to work from access to this framework and the associated privileges.
We have a full policy document in the works at the moment which will clarify this, but as an interim measure, we're happy to share a heavily redacted email between the Return to Play unit at Sport England and our CEO, Giovanni.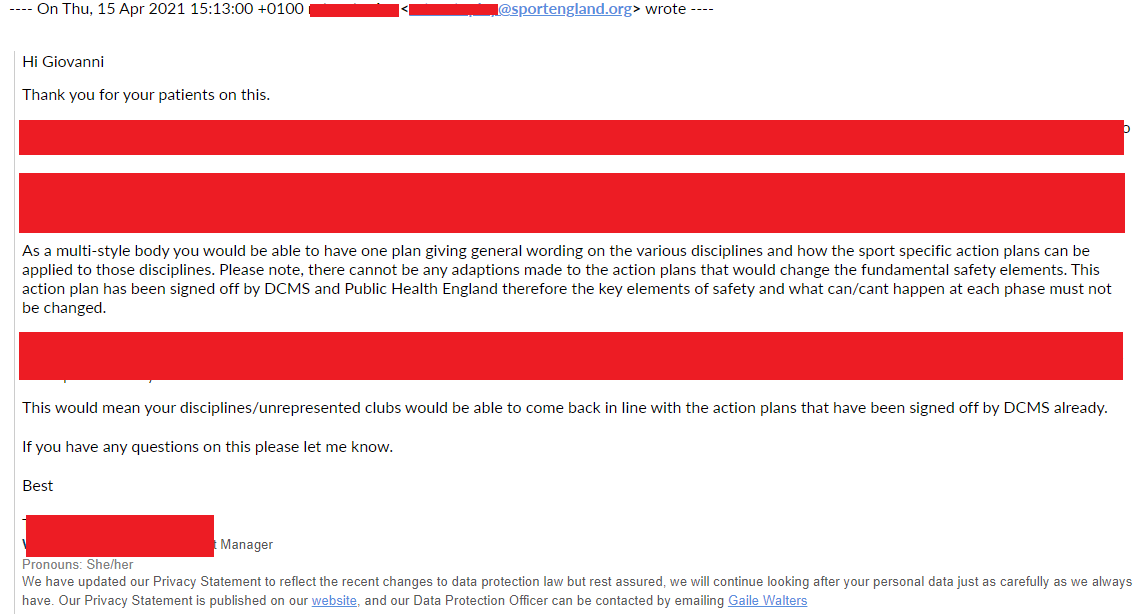 What we are keen to stress is that this does not offer us any authority to exceed the current Phase 0, 1 and 2 DCMS guidance's but rather, it allows us to create a policy framework that will allow clubs and styles currently without an approved NGB plan the opportunity to resume alongside their peers in styles such as Karate and Kickboxing in the interim.
What About Styles With A Sport England NGB?
If your discipline has a Sport England approved NGB and there is a DCMS signed-off Return to Play policy in place, you must follow that policy instead of our interim policy framework.
What About Wales, Scotland And Northern Ireland?
We're watching closely in respect of what's occurring in neighbouring nations and hope this precedent set with Sport England will allow us similar privileges in Wales, Scotland and Northern Ireland. It is currently an incredibly complex picture, so we will be providing detailed, individual guidance for the devolved nations in the days ahead.
Where Can I Find The BMABA Policy Document & When Will It Be Ready?
To view the release of this document, and to access the policy, click here.
We're here to help with questions and queries.
Access expert guidance and speak with our dedicated team for queries on membership, insurance, eligibility, us or just about anything else you might need.
We're not based from a kitchen worktop, nor do we employ call centres overseas to answer generic FAQs for us. We have three locations throughout the UK including our Headquarters in West Sussex. BMABA boasts over 1,250sqft of newly refurbished top-spec office space for our dedicated staff and everyone you speak with here – be it via email, live chat, Facebook or phone – is part of the team and not an outsourced agent.
Join More Than 6,500 Like-Minded Instructors & Clubs
We're one of the largest martial arts associations in the UK with more than 30,000 registered members across thousands of clubs and instructors.
We have our own offices, not the kitchen table.
There's nothing wrong with smaller martial arts associations. In fact, we think it's good for competition and variety. Unfortunately too many are one-man bands run from kitchen tables, and not professional set ups with staff.
We have three locations – Manchester, London and West Sussex. Our HQ has over 1,400sqft of dedicated, bespoke office space for our team of staff and volunteers.
Founded in 2012 by the now Multi-Award Winning Social Entrepreneur & Life-Long Martial Artist
Frustrated by a lack of affordable, professional alternatives to the associations Giovanni Soffietto had dealt with when participating and then teaching Thai Boxing and Karate, BMABA was founded.
Focused on professional standards and ethics rather than belts and titles, BMABA boasts the pedigree of a life-long martial arts expert come award winning social entrepreneur as it's Chief Executive Officer. It's fair to say we're well qualified and backed by an industry giant.
Our Membership Isn't Just A Piece Of Paper
We have always been focused on providing clubs with everything they need under a single membership, and our range of resources, tools and features delivers exactly that.
From template grading certificates and documents through to a free club website and national club listings. Whether it be advice on club structure and marketing or membership marks and qualifications. DBS checks, first aid qualifications, coaching certificates, instructor licenses, insurance, business plans, equipment, graphics – you named it, we cover it under just one simple, affordable membership.
Beautiful, Professional Certification As Standard
So much of what you do will be judged on the grades, credentials and certification you hold. We get that.
We know parents, students and venues don't always understand exactly what qualifies you. We help by providing superb, professional certification that ensures you look the part. Be it a Dan Grade, Instructor License or Insurance Document, all of our digital and printed certificates will meet the mark and be accepted across the UK.
Our Profits Fund The Fighting Chance Foundation
All of our eligible profits are donated to the Fighting Chance Foundation to help change lives through martial arts.
From programmes designed to help children in poverty and women & girls at risk of violence through to anti-knife campaigns and disability inclusion work, the Fighting Chance Foundation changes lives through martial arts.
Access The Latest Martial Arts Qualifications
We provide all of our members with a free Level 1 and level 2 Martial Arts Instructor Qualification. We also provide access to more than twenty professional courses and qualifications to help expand our member's portfolios.
From first aid, safeguarding and coaching through to concussion awareness, club colours and marketing – BMABA are a household name in martial arts for providing high-quality, affordable access to training and qualifications for martial arts.
We Back Our Members, Even During The Darkest Of Times
Our response and support throughout the Coronavirus Pandemic confirmed to the industry the way BMABA treats it's members.
We provided daily updates, dedicated online training hubs, access to a free COVID instructor qualification, subsidised insurances, a self-funded Covid Recovery Scheme, mediation services with local authorities and interpretations of DCMS policy. We increased our operational hours to ensure a 7 day a week response and invested more than ever in our systems, processes and memberships. This is what an association should be doing for its members we believe. As our slogan goes; "To High Places By Narrow Roads".
You won't find another UK martial arts association that can offer so much to their members.
Not entirely sure?
Try us for free for 6 months, with no obligation.
There's absolutely no obligation to commit beyond 6 months. You'll be able to explore what we offer, our member's area, all of our licensing options and get a better feel for the BMABA's service without any obligation to become a full member. We genuinely believe the best way to find out if we're any good is to try us for yourself.
Switching To Us
We know there's a lot to think about, and we can help.
We have absolutely no interest in enticing you to switch to BMABA if we're not the right fit. We know that won't last and isn't good for you or us. Instead, we can offer a confidential switching process to help you price up whether or not it's worth while, whilst also getting answers to any questions you might have.