It seems a tantalising possibility, and one which has been dashed so many times over the past twelve months. Nearly a year to the day since many of our clubs and instructors were forced to shut their classes, it seems increasingly likely we may be returning before the anticipated return date of mid-April.
This is far from confirmed and you should not bank on this for key financial decisions (such as taking out insurance etc) just yet, but there is reason to be cautiously optimistic. However you feel about the UK's response to the pandemic, it's hard to argue the progress made in vaccinating more than 10,000,000 since lockdown restarted for a third time in January is superb. As a sector, martial arts has been completely forgotten and all but completely left to fend for ourselves over the past year but, fortunately, health and fitness is in the spot light after many months of inactivity.
As it stands, there are now a growing number of national media reports on the potential of Sports – both 'team sports' and 'individual sports' – being pencilled in for a return shortly after Schools are scheduled to go back in England. This date is 8th March. Reasonably, if all goes well, this could mean sports resuming anywhere between 12th and 22nd March. There are obviously alot of 'ifs'. The vaccine programme must continue to progress. Schools need to safely return. BUT – and we'll hang on this for the moment – sports and exercise appear to be close to the front of the pack for areas of life set to be eased from lockdown first. In the devolved nations we could also see similar – if not sooner – return dates as whispers of gyms re-opening as a priority start to build. For now this is speculation, but it's something to watch closely.
What will martial arts look like if we go back mid-March?
How long is the proverbial piece of strong?
At the moment, our best guess is a return to something similar to spring last year. That may be limited outdoor non-contact sessions in groups of 6 (one instructor and 5 students). We may be lucky enough to see rules similar to that of last year which did not limit groups in size, but just required strict social distancing in place when training outdoors.
We believe outdoor only training is likely going to be the way we resume initially, with the potential of teaching indoors in schools or – hopefully – for children (those under 18 years of age) and disabled adults. It's very hard to accurately predict this. We're told the NHS is still under strain but the vaccine seems to be working and this has always been the light at the end of the tunnel.
Contact martial arts is likely going to be delayed further still. We're hopeful the warmer days and later evenings will make outdoor training viable for the spring months, with indoor training resuming as soon as possible. It is possible this could be as early as March/April if gyms are permitted to return, but we would recommend strongly that clubs plan for an outdoor environment to try and safeguard against indoor exercise being held back.
Unfortunately it could be late summer or autumn before contact and grappling is permitted. We'll be pushing DCMS to make it a reality as soon as possible but the Government's current position is one of caution, so we're going to be supporting close contact and grappling based clubs longer into the summer months.
Should I get my insurances set up, and start arranging training space?
For now it's something to watch very closely. This is not a given by any stretch, so please think carefully before committing any money toward insurance, venues and equipment. Unfortunately, experience tells us the UK Government may leave us all in the dark until – quite literally – the night before restrictions change. Things seem a little more in control this time around, so we're hopeful we may have two or three weeks notice which would be the perfect time to get insurances set up and running.
It is very important that clubs hoping to return asap take the time to now start planning how they can safely manage outdoor training. If we're lucky, gyms will re-open (along with leisure centres and village halls etc for sports classes) but until this becomes evident, you should be speaking with your local authority and ensuring you have the right permissions to teach in public areas when circumstances permit. If you haven't already, start talking with your association or insurer (if you've let your insurances lapse) to be clear on costs and conditions for post-covid training too.
Our COVID recovery fund will be opened on Monday 22nd February if things remain on-track for a possible March resumption date.
Where is this in the media?
You'll find similar reports emerging from all areas of the press this morning. Here's one example, from the Mail. We must urge clubs to take this with a pinch of salt for now – but to remain ready for the possibility of a March restart.
We're launching our new COVID Recovery Fund this month to help clubs return to the mats.
Our Fund will provide free of charge student insurances and instructor insurances to bridge the initial period from lockdown to classes filling up again. We'll also be providing enhanced support for not-for-profits and grappling based clubs who have been hit hardest by restrictions over the past twelve months.
We'll do everything we can to stand by clubs, and make UK Martial Arts' return to play a success. This is a self-funded initiative by BMABA to honour the dedication shown by our instructors. The scheme will be open to non-members and current members.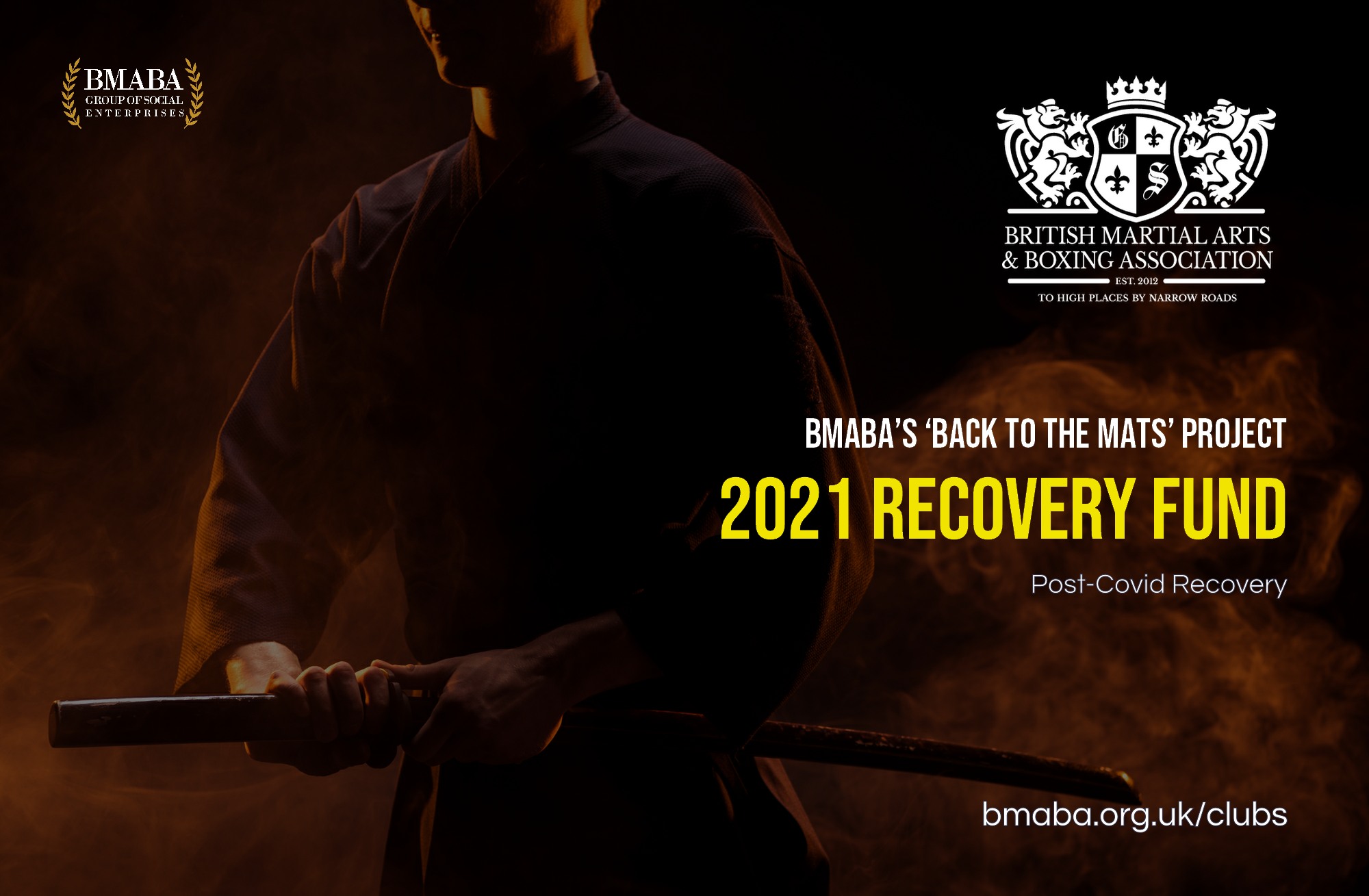 We're here to help with questions and queries.
Access expert guidance and speak with our dedicated team for queries on membership, insurance, eligibility, us or just about anything else you might need.
We're not based from a kitchen worktop, nor do we employ call centres overseas to answer generic FAQs for us. We have three locations throughout the UK including our Headquarters in West Sussex. BMABA boasts over 1,250sqft of newly refurbished top-spec office space for our dedicated staff and everyone you speak with here – be it via email, live chat, Facebook or phone – is part of the team and not an outsourced agent.
Join More Than 6,500 Like-Minded Instructors & Clubs
We're one of the largest martial arts associations in the UK with more than 30,000 registered members across thousands of clubs and instructors.
We have our own offices, not the kitchen table.
There's nothing wrong with smaller martial arts associations. In fact, we think it's good for competition and variety. Unfortunately too many are one-man bands run from kitchen tables, and not professional set ups with staff.
We have three locations – Manchester, London and West Sussex. Our HQ has over 1,400sqft of dedicated, bespoke office space for our team of staff and volunteers.
Founded in 2012 by the now Multi-Award Winning Social Entrepreneur & Life-Long Martial Artist
Frustrated by a lack of affordable, professional alternatives to the associations Giovanni Soffietto had dealt with when participating and then teaching Thai Boxing and Karate, BMABA was founded.
Focused on professional standards and ethics rather than belts and titles, BMABA boasts the pedigree of a life-long martial arts expert come award winning social entrepreneur as it's Chief Executive Officer. It's fair to say we're well qualified and backed by an industry giant.
Our Membership Isn't Just A Piece Of Paper
We have always been focused on providing clubs with everything they need under a single membership, and our range of resources, tools and features delivers exactly that.
From template grading certificates and documents through to a free club website and national club listings. Whether it be advice on club structure and marketing or membership marks and qualifications. DBS checks, first aid qualifications, coaching certificates, instructor licenses, insurance, business plans, equipment, graphics – you named it, we cover it under just one simple, affordable membership.
Beautiful, Professional Certification As Standard
So much of what you do will be judged on the grades, credentials and certification you hold. We get that.
We know parents, students and venues don't always understand exactly what qualifies you. We help by providing superb, professional certification that ensures you look the part. Be it a Dan Grade, Instructor License or Insurance Document, all of our digital and printed certificates will meet the mark and be accepted across the UK.
Our Profits Fund The Fighting Chance Foundation
All of our eligible profits are donated to the Fighting Chance Foundation to help change lives through martial arts.
From programmes designed to help children in poverty and women & girls at risk of violence through to anti-knife campaigns and disability inclusion work, the Fighting Chance Foundation changes lives through martial arts.
Access The Latest Martial Arts Qualifications
We provide all of our members with a free Level 1 and level 2 Martial Arts Instructor Qualification. We also provide access to more than twenty professional courses and qualifications to help expand our member's portfolios.
From first aid, safeguarding and coaching through to concussion awareness, club colours and marketing – BMABA are a household name in martial arts for providing high-quality, affordable access to training and qualifications for martial arts.
We Back Our Members, Even During The Darkest Of Times
Our response and support throughout the Coronavirus Pandemic confirmed to the industry the way BMABA treats it's members.
We provided daily updates, dedicated online training hubs, access to a free COVID instructor qualification, subsidised insurances, a self-funded Covid Recovery Scheme, mediation services with local authorities and interpretations of DCMS policy. We increased our operational hours to ensure a 7 day a week response and invested more than ever in our systems, processes and memberships. This is what an association should be doing for its members we believe. As our slogan goes; "To High Places By Narrow Roads".
You won't find another UK martial arts association that can offer so much to their members.
Not entirely sure?
Try us for free for 6 months, with no obligation.
There's absolutely no obligation to commit beyond 6 months. You'll be able to explore what we offer, our member's area, all of our licensing options and get a better feel for the BMABA's service without any obligation to become a full member. We genuinely believe the best way to find out if we're any good is to try us for yourself.
Switching To Us
We know there's a lot to think about, and we can help.
We have absolutely no interest in enticing you to switch to BMABA if we're not the right fit. We know that won't last and isn't good for you or us. Instead, we can offer a confidential switching process to help you price up whether or not it's worth while, whilst also getting answers to any questions you might have.